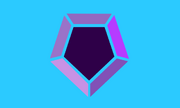 Açaíne is a gastrogender that is related to chocolates, açaí fruit, the tree they come from, blue skies, and clean air. It feels warm and comforting.[1] Açaíne can also classify as the gastrogender subtypes foodgender, fruitgender, and berrygender.
History
The term and flag were coined on April 15, 2019 by tumblr user hawaiiaine (aka beysgender, mogai-minecraft-snail, polysexualtea, aresgoesgender, thepancherryblossom).
Flag
It is currently unknown what the colors represent.
Resources