An illusogender person is someone who knows their gender identity but has a feeling "fakeness" regarding their gender identity. The feeling of "fakeness" can be part of their gender identity as well. This can be because of neurodivergency and/or outside pressure from family, society, etc.
There are terms for genders that are felt to be illusogender, such as illusoboy, illusogirl, and illusenby.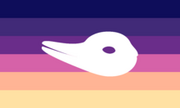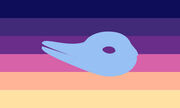 Flag
The illusogender flag was designed by pride-color-schemes on Tumblr, also known as Pride-Flags on DeviantArt, colored by DeviantArt user FunCatty, and posted on September 27, 2015. The meanings of the colors on the flag are unknown, and the figure at the center of the flag is inspired by the "duck or rabbit" illusion.
Resources
I paraphrased this article based on (Credit to whoever coined the term! I couldn't find the coiner): https://lgbta.wikia.org/wiki/Illusogender
Illusogender flag: https://www.deviantart.com/pride-flags/art/Illusogender-1-562944198?ga_changes=1&ga_submit_new=10%253A1469937921&ga_type=edit
Illusogirl flag: https://www.deviantart.com/pride-flags/art/Illusogirl-1-562944224
Illusoboy flag: https://www.deviantart.com/pride-flags/art/Illusoboy-1-562944251