A gender that is dominantly suffixgender, but it can incorporate other genders into itself. Even though various other genders other than the suffixgender are parts of the whole picture, when you feel 100% suffixgender, you feel uncomfortable with being anything except for that. Although, you still acknowledge that other identities are a part of your gender. Usually, major changes are made when the gender shifts. Sometimes your gender shifts without you realizing it, due to it being disguised as another gender at first. There is no set way or pattern the genders change.
A scrachgender person could, for example, feel strongly cis at one point. This doesn't make them cis altogether because their gender flies all throughout the gender spectrum.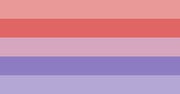 Community content is available under
CC-BY-SA
unless otherwise noted.